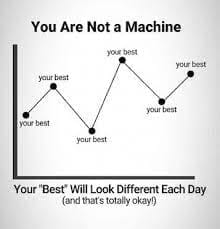 I had a wonderful conversation with a client the other day. She mentioned a desire to work more on her nutrition. We've discussed nutrition off and on, but it wasn't something she was ready to fully address at the time. This brings me to point #1.
Work on what you can, when you can
When this woman started, she was new to exercise. If I can recall correctly, she didn't start till the following week because she had to go buy some clothes and sneakers to work out in!
In my conversation with her, I shared how when I first started in fitness about 9 years ago, it took me about 1 1/2 years before I wanted to truly start addressing my opportunities to improve with nutrition. Sometimes we have to work on the habit of just showing up at the gym! I felt in her circumstances, she did just that.
We only have so much in our cup in a given day
Let's say each morning, we start with a full glass of water. Let's say we consume about 20% of that tending to our families (getting kids ready for school, preparing meals, doing household chores, etc.). Maybe we spill out another 20-30% (sometimes more all depending!) at our jobs each day. At this point, our glass is about 50-60% full. Maybe the different things on our mind (bills, upcoming appointments, concerns for family members, etc,) take up another 10-15% of our glass. We are now left with about another 35-50% of our glass and perhaps we use a little more to fit in some exercise.
Some days, perhaps those percentages are smaller…other days, we might consume our whole cup by noon.
What I am getting at is, we only have so much physical, mental and emotional energy each day. That might mean, we can't expect all areas of our life to really be getting our best.
The woman I spoke with recently started a new job, has a busy family, and has a parent that is not well. With all of that, she has continued to regularly come to the gym.
I shared with her how I have ebbs and flows throughout the year and at times when my stress is peaking, my consistency shifts as well. Whereas most of the year I sit around 80-85% consistent with my nutrition, at times of high stress and balancing multiple balls in the air, I might tend to be more 50/50 or 60/40. I generally don't miss a workout though.
We don't have to be 100% consistent to accomplish our goals
Precision Nutrition put out a wonderful article about rates of consistency and results. Click here to read that article. It is a touch lengthy, but well worth your time!
Yes, the more consistent you are, the greater your results will be. However, the rewards are slim for striving for perfection.
My words of encouragement: do your best on a given day and recognize that our best may look different on a given day.
However, I don't want it to be left unsaid that you can't strive for a 10% effort always and then expect the results of those who are 80% or better consistent.
You can't do 1 workout a week and expect the results of someone who works out 3-5 days per week.
You can't eat well 1 day per week, yet expect the results of someone who eats well 5-6+ days per week.
I mentioned above how my consistency ebbs and flows. Along with that, so does my expectancy with how my workouts might feel or I don't expect certain results. In other words, if I am focusing on 60/40 consistency, I am not really expecting to lose weight or fat mass…I am more or less expecting to somewhat maintain my current state. If I want change, then I have to be more diligent.
It's all about balance
When I can mentally, physically, and emotionally give my best effort, I do. However, when I am challenged with various things in life, I allow myself the grace of being "perfectly imperfect."
My encouragement for you is, do what you can, when you can.
If all you can focus on is walking and hydration and showing up at the gym regularly, then do that! When you have the ability to focus more intently, then do that!
I do want to add that sometimes when life is hectic, it can be a good time to try to incorporate at least one good habit. This way, we know that when things get crazy, it is at least one thing we can do consistently. For example, I have some go-to quality meals that I know and love and don't have to give much thought to when it comes to preparation and planning. This helps ensure I can easily make some good choices in my day.
In closing
We are here to meet you where you are at. I encourage everyone with "we start where we start and we go from there."
If you want to start with the habit of just showing up at the gym, we are here for you!
If you want to just start with improving your nutrition and aren't interested in working out yet, we are here for you!
We'd love to help you start from wherever you are and help you get on the road to feeling your best self, and that starts with a free consultation.